Dear colleagues,
We are pleased to inform that Pharmacoeconomics Section of the Pharmaceutical Association of Serbia (SFE SFUS) is participating at 7th Serbian Congress of Pharmacists with a Session which main topic is: "HEALTH CARE DECISION MAKING FROM THE PHARMACOECONOMIC PERSPECTIVE", which will take place in Belgrade on Friday 12th October 2018, Crowne Plaza Hotel, Belgrade, Serbia. It is our great honour to announce that Wija Oortwijn will held Preliminarry lecture on "VALUE FRAMEWORKS AND DECISION MAKING AROUND THE GLOBE". Wija is the scientific secretary of HTAi's Global Policy Forum: for 2016-2017 (on value frameworks), for 2017-2018 (on horizon scanning) and for 2018-2019 (on real world evidence).
The full programme of the Session is available at the www.farmakoekonomija.org
We are looking forward to welcoming at Session of the SFE SFUS of the 7th Serbian Congress of Pharmacists!
Sincerely,
President of the Pharmacoeconomics Section
Tanja Novakovic
Conclusions from the 6th Pharmacoeconomics Section International Conference
The Value in Innovation in Decision Making
Dear colleagues,
Innovations drive increased spending in health care systems as new medicines tend to be priced higher than current standards. Financial stability, the main aim of the health system of CEE region, depends on two key challenges, which are how to best spend resources which are already in the system and the other challenge is should the health system have more or less money. To be relevant to decision making in the CEE region, HTA agencies must address these key challenges.
MEAs are one part of addressing financial stability of health systems in CEE region. But MEAs should be applied together with HTA, so they can start to address clinical and economic uncertainties and provide a transparent and timewise framework for deliberative decision-making. However, this is challenging at the moment with typically confidential arrangements between companies and payers, as well as a reluctance among companies to make decision making more transparent as seen for instance in Poland.
A lack of access to innovative health technologies is causing significant harm both in the region and globally, particularly in Serbia. However providing access to such technologies is politically and financially complex and challenging.
We look forward to welcoming you to our future Conferences.
With kind regards,
MSc Tanja Novakovic
Pharmacoeconomics Section President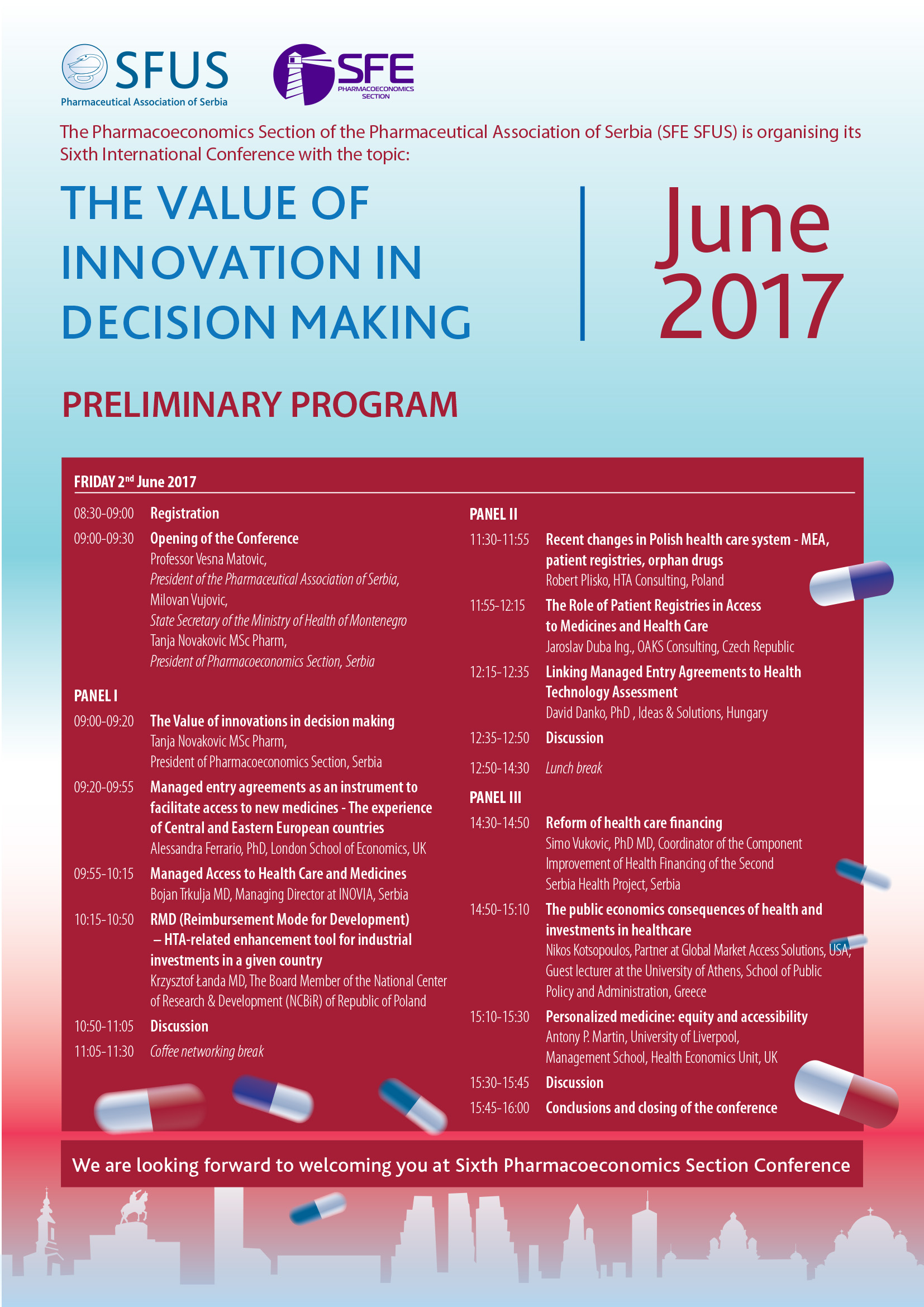 "THE VALUE OF INNOVATION IN DECISION MAKING"
The Pharmacoeconomics Section of the Pharmaceutical Association of Serbia (SFE SFUS) is organising its Sixth International Conference with the topic:
"THE VALUE OF INNOVATION IN DECISION MAKING", which will take place in Belgrade on 2nd June 2017, hotel Metropol, Serbia
Conference program will be proactive and it will represent unique event in Serbia and region.
(http://www.farmakoekonomija.org and http://www.farmacija.org/).
Main topics of the Conference are:
Managed Entry Agreements (MEA)
Link between MEA and Health Technology Assessment (HTA)
Access to personalised medicines, orphan drugs and high cost medicines
Role of patient registries in Access to medicines
The public economics consequences of health and investments in healthcare
The Conference program is intended for decision makers, makers of health policy design managers in health care institutions, employees of pharmaceutical companies (in the sectors of market access, pricing, health economics, regulation, marketing and sales), doctors and pharmacists who work in the public and private sectors. Participants of the Conference will have the opportunity to obtain new knowledge from world and local experts and exchange their experience and opinions.
Conference Participants
Registration fees
till 25th March 2017
From 25th March 2017
SFUS members
225 €
275 €
Others
300 €
350 €
Undergraduate students
100 €
150 €
Meet the experts dinner
50 €
50 €
Executive Organizer: SMART TRAVEL PCO, Njegoševa 72 a, Beograd, Phones: + 381 11 770 2184 Fax: + 381 11 244 7524, E- mail address: smarttravelpco4@smarttravelpco4.rs Web address: www.smarttravelpco4.rs
Dear Colleagues,
It is our great honour and pleasure to congratulate you on the jubilee of Pharmacoeconomics Section of the Pharmaceutical Association of Serbia, which marks 10 years of our section.
I wish you all continued success in our future work!
BB Soft informantor has published an interview where I discuss the challenges of health and pharmacoeconomics in the region, along with the development of the section, our activities and future plans.
With kind regards,
MSc Tanja Novakovic
Pharmacoeconomics Section President